Ma'ili Beach is favored by both families and body surfers. It provides a safe place for little ones to learn to swim and a strong current with excellent waves. Although the two seem mutually exclusive, at Ma'ili Beach they are not.

Ma'ili beach has a sandstone shelf -- actually a smooth-topped limestone and coral reef -- that is perfect for teaching the little ones to swim because there is no shifting sand beneath their feet. Children can be taught the ways of water and waves on the reef before being introduced to the sandy section of the beach.

The sandstone and coral reef runs 100 yards along the shore line and extends 25 yards into the sea. The locals call this area, Tumbleland, because in many places the rocks are covered with slippery seaweed. Tumbleland is only exposed from April to November. The remainder of the year ocean currents keep the reef covered in sand.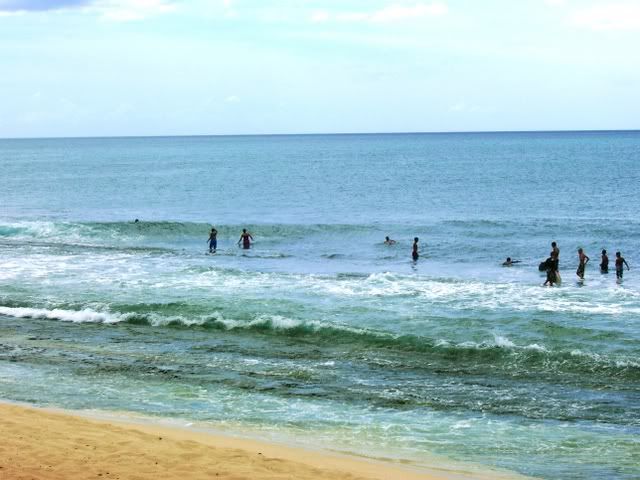 The surfers can be found at the edge of the reef, where there is a steep drop into the ocean. They paddle their boards from there out into the water and wait for a wave to ride back in. Surfing toward a huge rock doesn't make good sense to me, but the lifeguards assure me that the edge of the reef is very well padded in seaweed and there is rarely a serious injury, so for the most part their jobs are pretty boring (except for the sun, sand, and other scenery.)

This shot shows surfers standing at the edge of the reef. I am not adept with the camera. It is very slow to respond to button commands and I cannot anticipate when to press the dang button to get a shot of anybody riding a wave. Plus, I did not get any closer to the action because I was taking pictures of strangers and that just isn't a friendly or wise thing to do without first seeking permissions, so I wanted to make certain no one could be recognized.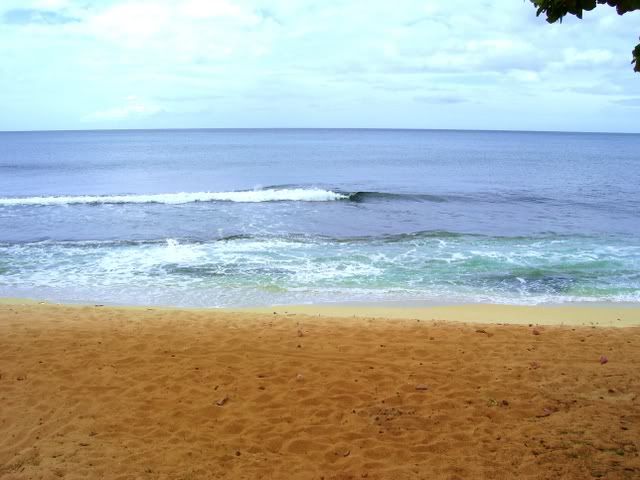 I took these beach shots very early on a Wednesday morning while most of the beach goers were at work or school. The group of kids you see [above] are very young teens. The boys all wore matching t-shirts and arrived in a school bus with two coaches and a driver. Looks like a fun class to take.

More info about Ma'ili Beach Park can be found here: Little Pebbles; and Ma'ili Beach Park.