Ma'ili Beach got its name from the abundant, ma, little pebbles, ili'ili, in the area. The stones are naturally polished and smooth from rolling through the sand and surf. Many of the stones are polished bits of shell and coral. This is the beach you want to visit if you like finding trinkets from nature.

The "shell" stones are easily found. I gathered all of these within an arm's reach. If you look closely you can still see the swirls in the polished snail shells.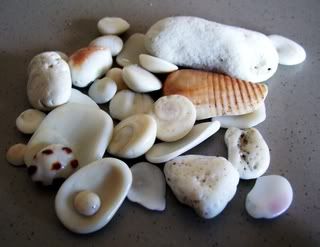 My favorite shells are the ones worn smooth by the sea. This summer when I was in Friday Harbor, Washington and in Canada on Vancouver Island, I had to hunt for them. At Ma'ili the beach seems to be made of them. I filled my pockets.

I didn't keep all of the shells I gathered, but choosing was hard! Each one has its own shape, texture and personality. The big red snail shell is tinted by red clay. The Ma'ili Park grounds that aren't reef, shell or sand are red clay.
The big, white, porous rocks are coral. A reef hides beneath the shifting sands of Ma'ili Beach. Much of it is sand stone and it was exposed when OC and I visited. We found many fossils embedded in the rock. It was like walking on history.
Here's a closer look at my treasures ... (click picture for larger view)

Ma'ili Beach, Waianae, Ohau, Hawaii